Description
2.6'' for shocks with a 55mm, 57mm, 60mm, 63,5mm and 65mm stroke.
3.0'' for shocks with a 70mm, 75mm and 76mm stroke.
After a few years of research and development, ICHU offers you the XLS steel spring:
Inside diameter of 36.30mm (fits FOX, CANE CREEK, BOS),
UL2 Japanese steel
Extremely light
Slim dimension, compatible with E-bikes.
Not compatible with ROCK SHOX shock
Who is ICHU?
ICHU, was established in 1974,and is one of the world's biggest spring manufacturers,  until now they've been subcontracted for the biggest suspension brands.
ICHU, has more than 40 years of expertise, an ISO9001 certification and an ecological charter going deep into details such as packaging.
You might also like
Fenix the new enduro standard. A 100% no compromise MTB shock, metric, standard mount.
Take a look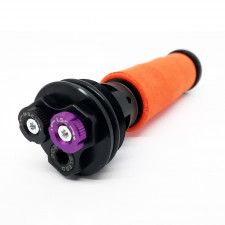 Upgrade your ROCK SHOX YARI, REVELATION and BOXXER performance.
Take a look